In the spring of 2012, in celebration of its 50th anniversary, CENTERSTAGE asked 50 of the country's leading playwrights to answer a simple question: What is my America?
These 50 monologues, ranging from the political to the personal, form a tapestry of ideas and explore our particular American moment–the people and notions that make the country what it is today.
The responses, by writers including Anna Deavere Smith, Neil LaBute, Christopher Durang, and Lynn Nottage, will be released on our special My America website:
centerstage.org/myamerica. The first set is now live and the remaining will be released on Tuesdays running through Election Day.
You can sign up to receive updates when each batch of videos are released, join the conversation by sharing the videos, and learn about the playwrights.
Here's a sampling of some familiar faces involved in the project: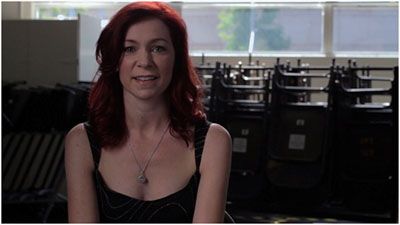 My thanks to KS for this report
Larger photo of Michel Emerson is available here.
Date: Saturday, October 13
1:45 pm – 2:45 pm
Location: 1E13
Speakers: Michael Emerson , Jonathan Nolan , Kevin Chapman , Taraji P. Henson
Description:

The smash hit Person of Interest returns to New York Comic Con! Join creator/executive producer Jonathan Nolan (The Dark Knight Rises) along with series stars Michael Emerson (Lost), Taraji P. Henson (The Curious Case of Benjamin Button) and Kevin Chapman (Rescue Me) for an onstage Q&A, plus a special sneak peek of what's to come in the acclaimed series. Person of Interest is a crime thriller about an ex-CIA agent John Reese (Jim Caviezel – The Thin Red Line), presumed dead, who teams up with mysterious high-tech billionaire Harold Finch (Michael Emerson – Lost), to prevent violent crimes. Guided by an all-seeing "Machine" — and opposed by corrupt cops, criminals and shadowy elements within the government — the two work with NYPD detectives Carter (Henson) and Fusco (Chapman) to stop crimes before they happen. From Bonanza Productions Inc. in association with Bad Robot Productions and Warner Bros. Television, Person of Interest airs Thursdays at 9/8c on CBS, and Person of Interest: The Complete First Season is available now on Blu-ray™ and DVD. Become a fan of Person of Interest on Facebook at www.Facebook.com/PersonofInterestCBS and follow the show on Twitter @PersonInterest.
Source: NYCC