New and old, but wonderful photos of Michael Emerson can be found in the Michael Emerson Photo Gallery. Just click here to view the newest ones uploaded, as well as the larger version of the teaser shown here:
October 4, 2012
By Anne Moore
When last we saw the intrepid heroes from Person of Interest they were in a load of trouble. Finch (Michael Emerson) had been kidnapped by a highly intelligent tech opponent who has great plans for him…and the all-powerful machine. Now Reese (Jim Caviezel) is investigating on his own and must discover a way to use the machine to find and save his partner.
POI is back for a second season and the questions posed to Emerson and Caviezel in the SDCC press room didn't really lead to any major answers. The actors are very good at stringing us along, but that's the idea – we have to watch. Person of Interest – Thursdays at 9:00 PM on CBS.
POPCULTUREZOO: We found out that Finch's identity was only started when he was at MIT. Do we learn why he had a false ID when at college?
EMERSON: I'm sure you will, one of these days. But I don't want to tease you too much. I think a lot of what we'll explore in this coming season will be fleshing out back stories of people. One of these days, obviously we have to learn how Finch got injured and there is a huge story to tell about the gradual construction of the machine. How did it get to be the omniscient apparatus that it is? There is some fun in the telling of that. Read the rest of this entry »
Look at this great Tweet:
Larger version of this photo is available here.
Original Tweet can be viewed here.
And, thanks to Redwingx, we have additional photos of Michael Emerson filming this upcoming episode.
The larger version of these photos can be viewed at the Michael Emerson photogallery and Regwingx's Flickr account. Enjoy.
In the spring of 2012, in celebration of its 50th anniversary, CENTERSTAGE asked 50 of the country's leading playwrights to answer a simple question: What is my America?
These 50 monologues, ranging from the political to the personal, form a tapestry of ideas and explore our particular American moment–the people and notions that make the country what it is today.
The responses, by writers including Anna Deavere Smith, Neil LaBute, Christopher Durang, and Lynn Nottage, will be released on our special My America website:
centerstage.org/myamerica. The first set is now live and the remaining will be released on Tuesdays running through Election Day.
You can sign up to receive updates when each batch of videos are released, join the conversation by sharing the videos, and learn about the playwrights.
Here's a sampling of some familiar faces involved in the project: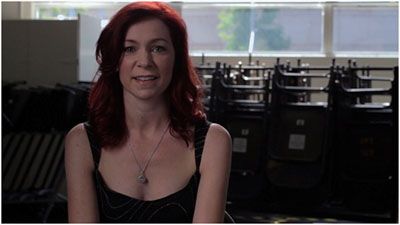 My thanks to KS for this report
Larger photo of Michel Emerson is available here.