I found an interesting entry in the Michael Emerson Forum that is associated with this website (new members are always welcome in our community) that I'd like to share here with the public. The entry was written by Jean and here's the actual quote:
We have all heard about Michael's early days acting on the stage in the local theater. The Sept/Oct issue of the Iowa History Journal has an article about that stage and gives Michael a one-sentence acknowledgement. (The story is, afterall, about the theater, not Michael, in his home town.)

Anyway, here is a scan [the larger version is available here] of that part of the article. If you want to research it any further you can use the link to the magazine, but I will tell you that is the only part of the article about Michael, so it is a thin thread. I was impressed that the theater looks so good. Usually community theaters are in garages or old hardware stores or churches. This is, apparently, a bona fide theater, which has, of course, deteriorated over the years and fell upon bad times, even becoming a meeting place for the Ku Klux Klan. But now it sounds like they want to restore it to its former glory.

Iowa is funny that way. Unlike Minnesota which concentrates all its arts and sciences in the Twin Cities metro area or Rochester (home of Mayo Clinic), Iowa has impressive touches of culture sprinkled throughout its towns and small cities. It's surprisingly cosmopolitan while at the same time down-home, if at times, a touch feral in some areas. LOL

There also seem to be many notables from Iowa. Obvvy, John Wayne from Winterset. Jean Seberg from Marshalltown, Andy Williams from Wall Lake, Ashton Kucher and Terry Farrell from Cedar Rapids, Michael, of course, Bill Bryson from Des Moines and let us not forget Capt. James T. Kirk from a town south of Iowa City.
View larger version of this article here.
View new additions to the photo gallery here.
The DVD Batman—The Dark Knight Returns introduces the Joker. In the video that follows,  Michael Emerson says his first lines as the Joker (0:36 mark)
(gulp) "Baaatman, dahrling!"
Also, as usual, the Michael Emerson photo gallery has new photos. Come and visit by clicking here.
In the spring of 2012, in celebration of its 50th anniversary, CENTERSTAGE asked 50 of the country's leading playwrights to answer a simple question: What is my America? To vie and hear Michael Emerson's answer, just click on the photo that follows:
Unknown by Lee Blessing
Lee Blessing is the author of A Walk in the Woods, Two Rooms, Eleemosynary, Going to St. Ives and many other plays which have been performed worldwide. His work has earned numerous awards—Outer Critics Circle, Drama Desk, Steinberg/American Theater Critics Association, L.A. Critics Association to name a few—and has been nominated for the Pulitzer Prize and Tony and Olivier Awards. Blessing is married to the award-winning playwright and TV writer Melanie Marnich.
To hear Carrie Preston's answer, just click on the photo that follows: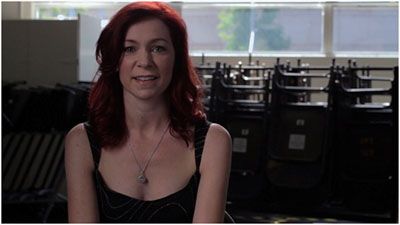 A.K.A. by Melanie Marnich
Melanie Marnich's plays include Quake, Blur, Tallgrass Gothic, Calling All, Beautiful Again, These Shining Lives, and The Storm Coming. She also wrote for the HBO series Big Love and is currently a writer on the Showtime series, The Big C.
And because I am a great "Bocke" fan, here's Terry O'Quinn's answer (just click on his photo):
A Brand New Man by Rinde Eckert
Rinde Eckert is a writer, composer, singer, actor, and director whose music, music theater, and dance theater pieces have been performed throughout the United States and abroad. He has received a Guggenheim Fellowship, a Marc Blitzstein Award (from the American Academy of Arts and Letters), an Obie Award, a Grammy Award, and a Doris Duke Performing Artist Award (2012). He was a finalist for the Pulitzer Prize in Drama in 2007.
My heartful thanks to "Gina" for the link alerts.
I just stumbled upon blog that informs us that Michael Emerson will be starring  in a closed reading of a new comedy by Ian Maris. The play is titled The Learning Curve, which is about the perils of being a teacher today. The reading will be on October 2oth. Too bad it is not ope to the public. But, as luck would have it, one of the participants of the reading (Sean Daniels) has a blog and will be updating on how the show goes.
According to the blog, the reading will be closed because Michael Emerson is such a famous person, the fans would be so overwhelming that the producers, artistic directors, etc would not be able to hear the play. I kind of resent this, because I was at a reading where Michael Emerson and his wife (Carrie Preston) both were readers, and, yes, there was a big crowd (at least much bigger than expected before he was famous), but, nonetheless, the crowd was respectful and you were able to hear the reading. The only thing that, maybe, there could have been a complaint was that the crowd was expecting to meet with Mr. Emerson when the show was over. And, even then, the crowd was respectful and manageable. Unfortunately, unlike the venues in Hawaii that presented readings and other fundraiser events with the member of the LOST cast  while LOST was being filmed, the NYC venue was not prepared or willing to host a meeting of the cast with the public. And, that was disappointing. There was nothing to fear, really, every event in Hawaii was always peacefully handled and left the public satisfied.
Well, anyway, I am thrilled that Sean Daniels is letting us participate vicariously in this event. So here's a copy of what Sean wrote. Please go to his blog (I am placing a link) to read it there. And, I will update it here as well.
Wanted to share an exciting bit of news. On October 20th, in New York City, I'll be doing a closed reading of a new comedy by Ian Mairs entitled THE LEARNING CURVE starring Michael Emerson (TV: LOST, PERSON OF INTERES[T]) and Jeff Binder (Broadway: LIEUTENANT OF INISHMORE, LION KING, MARY POPPINS).

THE LEARNING CURVE is a wicked comedy about the perils of being a teacher today (remember those two weeks that Chicago didn't have school – yeah….) and I'm thrilled to have actors with such fantastic comedic timing diving into this for an afternoon. I have no doubt that this is just the first step on this play's path to full production, and then eventually…world domination.

Oh, what's a closed reading? Great question. It's when you are doing a reading of a play, and for a variety of reasons decide to not make it open to the public.  For us, it's because Michael's fans would overwhelm us, and the people we want to hear the play (producers, artistic directors, my mother) wouldn't be able to get in.

Though fear not, even though the reading itself won't be open to the public, I'll be updating here on how the show goes, what the process is like and what happens to the show post-reading.
New and old, but wonderful photos of Michael Emerson can be found in the Michael Emerson Photo Gallery. Just click here to view the newest ones uploaded, as well as the larger version of the teaser shown here:
October 4, 2012
By Anne Moore
When last we saw the intrepid heroes from Person of Interest they were in a load of trouble. Finch (Michael Emerson) had been kidnapped by a highly intelligent tech opponent who has great plans for him…and the all-powerful machine. Now Reese (Jim Caviezel) is investigating on his own and must discover a way to use the machine to find and save his partner.
POI is back for a second season and the questions posed to Emerson and Caviezel in the SDCC press room didn't really lead to any major answers. The actors are very good at stringing us along, but that's the idea – we have to watch. Person of Interest – Thursdays at 9:00 PM on CBS.
POPCULTUREZOO: We found out that Finch's identity was only started when he was at MIT. Do we learn why he had a false ID when at college?
EMERSON: I'm sure you will, one of these days. But I don't want to tease you too much. I think a lot of what we'll explore in this coming season will be fleshing out back stories of people. One of these days, obviously we have to learn how Finch got injured and there is a huge story to tell about the gradual construction of the machine. How did it get to be the omniscient apparatus that it is? There is some fun in the telling of that. Read the rest of this entry »
Look at this great Tweet:
Larger version of this photo is available here.
Original Tweet can be viewed here.
And, thanks to Redwingx, we have additional photos of Michael Emerson filming this upcoming episode.
The larger version of these photos can be viewed at the Michael Emerson photogallery and Regwingx's Flickr account. Enjoy.
In the spring of 2012, in celebration of its 50th anniversary, CENTERSTAGE asked 50 of the country's leading playwrights to answer a simple question: What is my America?
These 50 monologues, ranging from the political to the personal, form a tapestry of ideas and explore our particular American moment–the people and notions that make the country what it is today.
The responses, by writers including Anna Deavere Smith, Neil LaBute, Christopher Durang, and Lynn Nottage, will be released on our special My America website:
centerstage.org/myamerica. The first set is now live and the remaining will be released on Tuesdays running through Election Day.
You can sign up to receive updates when each batch of videos are released, join the conversation by sharing the videos, and learn about the playwrights.
Here's a sampling of some familiar faces involved in the project: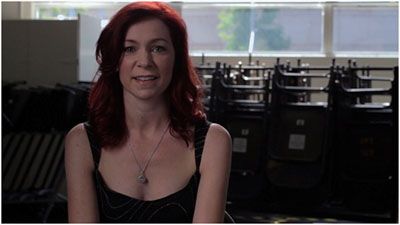 My thanks to KS for this report
Larger photo of Michel Emerson is available here.