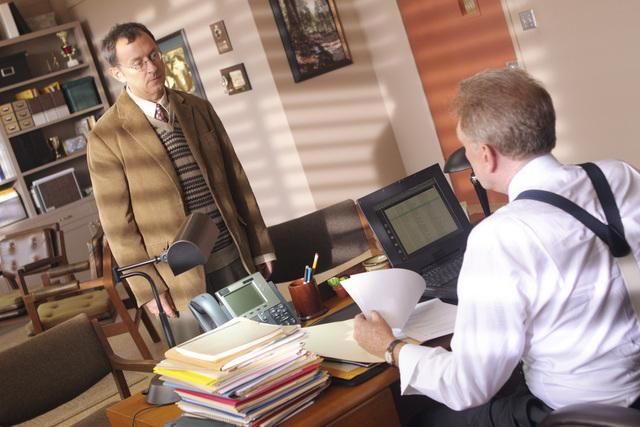 This season, ABC is supplimenting their online presentation of LOST with commentary from a number of Island experts including EW's Jeff Jensen, Propmaster Rob Kyker and fan favorite Leslie Arzt aka Daniel Roebuck. And we're excited to exclusively announce that fans will be able to watch this week's Ben-centric episode, "Dr. Linus" along with Michael Emerson himself, beginning this Monday at ABC.com. We've got a little preview of what Emerson had to say about Jack's "dynamite" scene with Alpert, finding comfort with Hurley and a classic LOST reunion…
On Ben's "flash sideways…"
"…this is Ben in another might-have-been life. Or maybe it's THE life, I'm not even really sure."
On Jack tempting fate in the Black Rock…
"How many times has Jack been in a Russian Roulette situation on the show? I remember playing a scene with him two seasons ago where we were playing a game of chicken about whether his friends would be shot by my henchmen."
On Hurley and Jack's trek to the Temple…
"So this is kind of sweet to see Jack and Hurley. Because wherever Hurley goes, that's where the heart of the show goes. You know that there is comfort and happiness where he's at."
On Jack, Hurley and Alpert's arrival at the beach…
"This is one of the great silent reunion, camp reunion montages that the show is famous for. Many of the emotional highlights or high points of the show have been done in this way and it's been a season or so since they've had a good one….
"But here we have a montage where the difference is there's a couple of outsiders here. A couple of our traditional villains… We've got Richard Alpert and Ben, who are not traditional allies of this group and yet somehow they're here.
"So we have a kind of an emotional and, you know, a romantic regrouping … The inner circle is together…happy to be together and yet we see now that it will be brief because the forces of confusion and violence are at their doorstep.
On the 815ers, 316ers and Others' possible alliance…
"So we seem to be having a new group of allies is forming, a new combination of heroes, maybe. I don't know. Stay tuned."
You can watch "Dr. Linus" right now at ABC.com and with Michael Emerson's commentary beginning this Monday.
Source: UGO
One Response to "Michael Emerson Commentary Preview For "Dr. Linus""