Archive for the 'Uncategorized' Category
Ever wonder what is  Michael Emerson's favorite app for his iPhone? Well, Adrienne Gaffney of the Wall Street Journal asked him, as well as other celebrities and got an answer: Here's Michael Emerson's answer:
Michael Emerson

58, actor who starred on 'Lost,' which won him his second Emmy Award. He currently appears on 'Person of Interest.'

Mr. Emerson uses an iPhone.

WSJ: What apps do you use? Mr. Emerson

: I have this thing called 

TuneIn Radio

which allows you to listen to stations and anything that's streaming, all over the country and I guess all over the world. A lot of times we're on location in remote places or in the bottoms of buildings where you can't get a regular radio signal and I can pick all my local New York favorites. You can select by category, blues or children's music or college radio stations and just pick whatever you want. I'm such a radio person. I swear I listen to more radio than I watch TV.

I use TuneIn Radio when I'm at work or on location. But I'll play it the whole time when I'm in my trailer or in my dressing room at the stage.

WSJ: Is there an app that you had that you stopped using?

Mr. Emerson: I'm about ready to get rid of my dictionary app. I keep asking it for words that it doesn't know. So I'm tired of that. I guess I need the OED (Oxford English Dictionary) or something like that as an app. I should really explore that and get a more powerful dictionary engine because I keep stumping my own dictionary. That's not right.


—Adrienne Gaffney
To view the other celebrities and their answers, just click here.
Seasoned performer who found stardom through 'Lost' and 'Person of Interest'
He may not be a household name, but Michael Emerson became a household face by virtue of his role as the sinister Benjamin Linus in Lost, the leader of the group called the Others on the show's hallucinatory South Pacific island. Emerson, born in Cedar Rapids, Iowa in 1954, was already a theatre veteran with a string of intermittent TV performances to his credit. Now his ascent became rocket-assisted as he appeared in all of Lost's six seasons except the first, winning an Outstanding Supporting Actor Emmy in 2009.
Lost ended in 2010, leaving even faithful viewers bewildered by its mystical and metaphorical ending, but the following year Emerson was cast as the enigmatic billionaire Harold Finch in the mystery-drama series, Person of Interest. It was created by screenwriter Jonathan (aka Jonah) Nolan, collaborator/brother of film director Christopher, and like Lost, the series is made by JJ Abrams's Bad Robot production company. Not a bad pedigree, since Abrams's entertainment juggernaut has also launched Alias, Fringe, Undercovers and Alcatraz on TV, and the movies Cloverfield, Star Trek, Super 8 and Mission: Impossible – Ghost Protocol. The prepost
After a relatively slow start in the US, where it airs on CBS, Person of Interest has suddenly boomed in its second series, and now ranks in America's top five shows. Season two is currently showing in the UK on Channel 5 on Sunday nights, where it may not topple the likes of Mr Selfridge and Call the Midwife, but is pulling a million-plus viewers and rising.
The show centers around the eccentric relationship between Emerson's Finch and Jim Caviezel's John Reese a former CIA agent who had suffered a psychological crack-up following the death of his lover, and was living as a hobo in New York. Finch has devised a computer system for the government called The Machine, able to hoover up data from all manner of surveillance sources to predict terrorist attacks. However, Finch found that it could predict "ordinary" crimes too, though it could only identify an unnamed "person of interest" who was involved, without specifying whether they're perpetrator or victim. Finch rescued the burned-out Reese from the gutter, and now sends him out as investigator and enforcer on Machine-specified missions…

(1) ADAM SWEETING: What was your first glimpse of Person of Interest?
MICHAEL EMERSON: I read a pilot script. It was sitting on JJ Abrams's desk. Terry O'Quinn [from Lost] and I had been trying to cook up some kind of project together because we get along so well, and nothing was quite clicking. I thought come on, this is Bad Robot, and I said "what have you got?" So they gave me this thing that Jonah Nolan had written, and I thought it was exciting and I liked the high-tech, high styleness of it and its noir quality. And the fact that it was set in New York City was really appealing, though right now I'm feeling like it's a bad bargain weather-wise because it's been really a cold snowy winter here and we shoot outdoors quite a bit, so the work has been kind of tough and bone-chilling lately. I guess I was spoiled by the climate in Hawaii [for Lost], but really the island I prefer is the island of Manhattan.
(2) Is JJ Abrams very hands-on?
No, I think JJ's role in this particular case was to be the sort of broker or bringer together of the artistic parties. I think he has bigger projects that take most of his attention. But it feels like a Bad Robot show and I'm happy to be part of what seems to be a kind of repertory company of actors who work on JJ's projects. I just like the stuff he picks. There's always an element of mystery or the thing untold or the black box into which we cannot see, and I share that feeling with him. That's where there are some similarities between Lost and Person of Interest . Like all Bad Robot shows it bounces around in time a little bit, it has some central questions that will never be answered, there's an air of mystery about it. Jonah tried to create a state of paranoia where no-one can be trusted which includes the conventional authorities, although we do have good cops and bad cops.
When I got on Lost I came in the middle of series two, and I think they had peaked in terms of viewership. It was never the same again after the first season, but those who stayed with the show were more fanatical than any TV viewers I've been around. I think half the people that talk to me on the street now are still watching Lost, maybe they got the box set. Everyone wants to take you to task for the ending. Finally I met someone the other day who said "I just want to tell you I think the ending was beautiful", and I said "well thank you for that, I'm glad I didn't have to make my pitch." Read the rest of this entry »
Well, it happened again. Back on December 12, 2012, I wrote a blog entry about my health woes. Little did I know that in 15 days, I would be back in the hospital again.
Back in November 22, 2012, 14 days after I came home from the hospital, I went in to the emergency room (ER) with what I thought was a cough caused by bronchitis. I was given antibiotics, but unfortunately, the cough didn't get better. It got worse. I was coughing nonstop and the cough was suffocating me. Many of my friends kept telling me that I may have whooping cough, as all my symptoms (the type of cough, duration, and intensity) fit the classic Pertussis symptoms.
I went to my pulmonologist for help. He gave me prednisone (a steroid), which stopped the cough for a few days. However, I soon needed to be off this steroid because it affected my muscles and I was unable to climb stairs and get off sitting positions. My proximal and girdle muscles were so weakened. Fortunately, as the steroid left my body, my muscles returned to normal.
As the cough didn't get better, I kept returning to the ER, only to be given some medication that didn't work and a few days later, I'd be back in the ER again. On December 27, 2012, I went in by ambulance and was admitted as an asthmatic patient. In the hospital, I was given megadoses of a steroid called dexamethasone (decadron). As decadron is 6.6 more powerful than prednisone, my muscles once again were attacked. I stayed in the hospital for 13 days and then I was transferred to a nursing rehab facility. I had to be weaned off the powerful steroid slowly (it took over 1 month), and I had to relearn to walk again, as I was now confined to a wheelchair.
I am finally able to function a bit. I still have difficulties getting off chairs, but once I'm up, I can walk as if nothing happened.
And the for those of you who are wondering what my cough was, here's the answer: I had WHOOPING COUGH (Pertussis). If you are wondering, I had whooping cough when I was 5 and I was vaccinated when I was 30. But, because many new parents are choosing NOT to vaccinate their children (please heed my words, the vaccine is less dangerous than the actual disease), pertussis is on the rise. Specially susceptible to reacquiring the disease are teenagers and adults. I also found out that pertussis requires revaccination every 5 years. So, go get the the DPT vaccine. You won't suffer the way I did. And, by the way, the steroids that I was given was fruitless. Nothing can stop pertussis once you get it. It has to run its course. I wish I had known that. I wish I was not misdiagnosed.
I apologize for not having updated this site for over a month.  And here's why:
There comes a time in our lives that we realize that we are mortals. Some of us realize as death hits in the face and then we leave the world of living. Some of us, face our mortality with a sudden illness that somehow gives us another chance. I faced my mortality twice. Once on March 30, 2009, when I went to the hospital with high fever and a cough that wouldn't let go. I was admitted at midnight and by 8 am, I failed to be able to breath. Luckily, rapid responders saved my life. I woke up 4 days later in ICU. I was indubated and was told that my heart was attacked by a virus. I was lucky to be alive. I was also told that according to the rules of thirds, I won over the first: I was alive, as one third whose heart were attacked by a virus, would die, one third stay the same, and one third would get better. Once again, I was lucky, within a few times, I got better.
Three years has passed, and on November 5, 2012, an ambulance took me the hospital unable to breathe, after once again catching a cold that gave me high fever and an incessant cough that made unable to breathe. I passed out as we reached the emergency room and woke up 3 days later in the ICU and found a large tube down my throat. Once again, I was intubated. This time, I found out what hit me in 2009, hit me again in 2012. But now, the condition had a new name. It was no longer a virus that attacked my heart. During the interval from 2009 to 2012, my condition had a name: Takostubo Cardiomyopathy. Takotsubo is know as the "heart break" disease. Most people get it when they experience an extremely emotional state that they cannot cope it. The heart is suddenly deluged with a high concentration of adrenalin that it cannot cope it. The heart distorts its shape and, if help comes about right away, the chance of recovery is very positive.
Unfortunately, my affliction was not caused by emotional or psychological stress. It was caused by physical stress. We can attempt to diminish emotional and psychological stress. It's hard to prevent physical stress. Colds are always around and who knows which one will be the one that will once again knock me out. The third time, I may not be so lucky. Although, I hope that it won't be so. Nonetheless, I am well aware of my mortality, and hence, I am writing to all of you requesting a favor. I need a partner. Someone I can trust to help me run the site. If you are interested, please contact me by clicking here. Remember, it's a volunteer job. Do it for the love of Michael Emerson's career.
This blog is really about Michael Emerson, but Carrie Preston is his wife and many times when she is interviewed, she talks about her husband. And she does in this article from Vulture as well, enjoy:

Carrie Preston is best known as Arlene Fowler on True Blood and Elsbeth Tascioni on The Good Wife, both wacky characters in their own right. But she's only making a cameo in her latest film, That's What She Said, which she directed. The comedy, now in limited release, is an adaptation of the play Girl Talk by Kellie Overbey (which Preston also directed) and features three very different women: an optimist looking forward to a prospective date (played by Marcia DeBonis), a cynic who no longer believes in love (Anne Heche), and a nymphomaniac who uses sex to feel better about everything (Alia Shawkat). In the case of the last, if a partner isn't readily available, she'll retire to the nearest public restroom or hop on a subway train, which has a vibrator effect on her. Preston chatted with Vulture about orgasms on the subway, women in Hollywood, and modern dildos.

You really get the sense that you're in the real New York with this film — not a glamorized, idealized version of the city.
It was really important to me to depict that. This morning, it was pouring rain. Pouring. I'm wearing heels and a very tight dress, and I had my hair all down and everything. My sweet husband [Michael Emerson] cut together from an old poncho a little hair tie for me — and I looked like the biggest bag lady! I had a hair tie that was blue, I had a black raincoat, a red umbrella, and a pink purse, and boots, with my high heels in a bag. And looking like that, I took the subway because I'm never going to catch a cab in the rain. It's not Sex and the City, and I feel like the movie tries to capture that.

The subway scenes, you mean.
Illegally filmed, by the way.

Both scenes employ methods that people might want to borrow: first, Anne Heche's pretense of having Tourette's to get people to move away from her, very handy; and second, Alia Shawkat's technique of getting an orgasm from the train's vibrations.
You wouldn't believe it, but we actually shot Anne's scenes in a very crowded subway. That was my costume designer and script supervisor who were sitting next to her, because we didn't have any money for background. People sort of looked, laughed a little bit, and then went right back to whatever it was that they were doing. They couldn't have cared less: "Eh, Anne Heche doing something weird, whatever." Same with the orgasms. No one batted an eye. Although that was very subtle — you had to know. But Alia was changing costumes on the subway in between the takes, so we were on the subway holding up coats to help her change clothing, and there was a camera operator, a boom operator, and me, so it was pretty kamikaze to shoot. We were doing this, mind you, at three in the morning, and on the A train — but, still, the subway was alarmingly packed at that hour.

Is the A train the best train for orgasms?
I wouldn't know because I've never tried it, but in theory, yes. [Laughs.] There's no O train, so I think it's the A. There are fewer stops, so you definitely have a longer run at it, to get the rhythm going. It's a good stretch. You could do it all the way to JFK. I love that in the movie, when she says she has spontaneous orgasms on the train, people ask, "Which train? Which line?" I mean, she wants to know exactly where she needs to go to get it on.

Where did you get Alia's dildo for when she wants her orgasms in slightly more private locations?
The props woman on the film, she went everywhere, and she would send me these pictures and videos of these sex toys, and I was like, "Too much!" They all had these wings and things, and I was like, "Does no one just make a plain vibrator anymore? Can you find something that's not out of a science-fiction movie?" Most of them have all these appendages, and for that shot, I just wanted a phallic symbol. I didn't need it to be an alien thing on the floor that was moving around, so we had to craft that.

This started as a play in 2004, long before raunchy female comedies became en vogue again.
When Kellie wrote this script, there were no Bridesmaids running around. There was no Bachelorette happening. There were no Girls on HBO. There was none of that. I'm happy about those — I love Bridesmaids; I was there opening night — but I feel like Hollywood has amnesia. Do they not remember the silent films that were almost all starring women? Do they not remember the screwball comedies? Do they not remember Lucille Ball? They don't, and they forget, and we've had some major amnesia, and we're starting to come back into it. But if I'm going to watch men grabbing their crotch onscreen since the beginning of the talkies, we need a tit for tat.

I thought it was because Marcia's character had just shaved at first, but she's grabbing her crotch because of a yeast infection.
Movies don't usually address any of that, any of the stuff that we do. Here's a woman holding up a centerfold, shaving, trying to live up to an ideal, and you know she's not going to. She represents many, many women in the world that Hollywood will never give a leading role to.

Unless you're Melissa McCarthy.
And then they make an exception. And I'm glad that's happening. But it's very rare. As a feminist and a woman who believes in representing all females in film, I thought the only way to do that is to make it happen yourself. If we sent Kellie's script to Hollywood, this would not be the cast. They would just want someone who puts glasses on and goes, "Oops! I'm adorkable!"

You're on hiatus right now for True Blood. Any discussions yet with the new showrunner [Mark Hudis] about how things might change for Arlene and Terry?
No, but he's wonderful, and he's a big supporter of Arlene and Terry, so I'm curious to see what they'll do what with our characters. Right now, I'm doing a three-episode arc on my husband's show, [Person of Interest], playing his fiancée. We're doing flashback scenes, and it's so fun to be working with him, to be on set with him and see how he works with that character. It'd be fun if he could ever cameo on True Blood, too!
By Charlie Patton
Jacksonville playwright Ian Mairs' comedy about the teaching profession, "The Learning Curve," will receive a reading Saturday in New York starring Michael Emerson.
According to Broadwayworld.com, "The reading will be for industry professionals interested in learning more about the play and Mairs' comedy writing."
"The Learning Curve," which draws on Mairs' experience teaching at the University of North Florida, Paxon School for Advance Studies and Douglas Anderson School of the Arts, had its debut at Theatre Jacksonville last January. It is a sometimes funny, sometimes frightening look at the world of public education.
Emerson and Mairs became friends when Emerson lived in Jacksonville from 1986-1993. They worked together regularly, co-starring in Mairs' play "Parts Unknown." In 1993, Emerson left to get a master's degree from the Alabama Shakespeare Festival.
He then went to New York, where he gave a breakout performance in 1997 as Oscar Wilde in a showcase production of Moises F. Kaufman's "Gross Indecency." He's worked regularly since on television and in theater.
He won an Emmy for his portrayal of Benjamin Linus on "Lost" and another for playing William Hinks on "The Practice." He currently plays Harold Finch on the CBS series "Person of Interest." He has appeared on Broadway opposite Kevin Spacey in "The Iceman Cometh" and opposite Kate Burton in "Give Me Your Answer, Do!" and "Hedda Gabler."
Also in the cast of Saturday's reading will be Jacksonville actress Simone Aden Reid, who appeared in the play when it premiered at Theatre Jacksonville.
Source: Jacksonville.com
The Michael Emerson just obtained screencaps of the new TV Guide issue containing a new article about Person of Interest:
The larger versions and additional articles are available by clicking here.
In the spring of 2012, in celebration of its 50th anniversary, CENTERSTAGE asked 50 of the country's leading playwrights to answer a simple question: What is my America?
These 50 monologues, ranging from the political to the personal, form a tapestry of ideas and explore our particular American moment–the people and notions that make the country what it is today.
The responses, by writers including Anna Deavere Smith, Neil LaBute, Christopher Durang, and Lynn Nottage, will be released on our special My America website:
centerstage.org/myamerica. The first set is now live and the remaining will be released on Tuesdays running through Election Day.
You can sign up to receive updates when each batch of videos are released, join the conversation by sharing the videos, and learn about the playwrights.
Here's a sampling of some familiar faces involved in the project: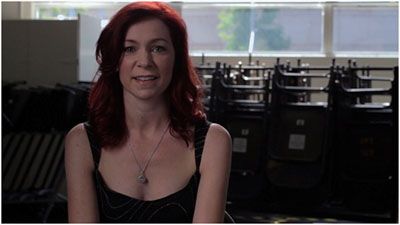 My thanks to KS for this report
Larger photo of Michel Emerson is available here.